QTY9-18 Hydraulic Fully Automatic Block Making Machine Line
Machine Working Video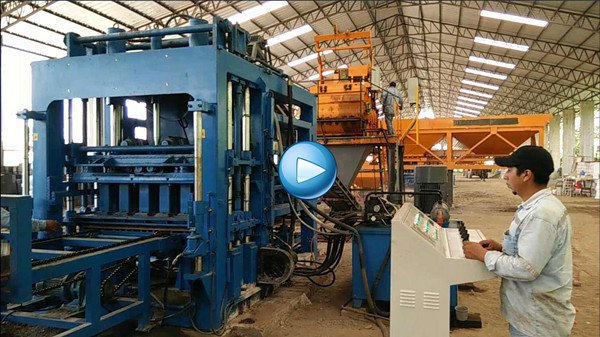 One: structure
This machine is welded by using special thick-walled rectangle welding method. The transmission shaft and gears are made of alloy steel, which makes them much stronger and more durable. The skip working platform is made of manganese, which extends its service life. Other parts of the machine are all in accordance with national standard. Beside, we import spare parts from famous international company, such as Siemens from German.
Two: Design characteristics
1. Vibration superiority: table and mould vibration work together to achieve products of high density.
2. The upper mould and mould case are driven by gears and racks chains, which ensures the upper mould and mould case move accurately.

3. There are rubber vibration absorbing shims on both upper mould and vibration platform, which can reduce energy consumption.
4. Material feeding box works in the free vibration oriented mode. In this way, it reduce the load of mould case and realizes the best feeding of materials.
5. It is easy to modify the vibrating force and obtain the best vibration frequency.
6. In the process of sending pallets, the rocker convert its circular motion into linear motion of the connecting rod, so pallets will uniformly accelerate and move smoothly.

Three: Functions
It is designed to produce standard bricks, perforated bricks, hollow bricks, paving bricks, curbstones by making wide use of raw materials, such as sand, stone chips, slag, coal gangue, coal ash, fly coal ash, construction waste , cement and so on. They are mixed in a certain proportion.
Four: Automatic control device
The machine employs the famous international PLC control of Siemens, besides, other electronic elements are imported from world-famous manufacturers. It can work automatically, semi-automatically, manually according to your preference.
Environmental protection: It conforms to the environmental protection standard with no waste water, slag and waste gas in the production process.